Future Schools
Throughout their time in Senior School and particularly whilst studying for their GCSE's, students are given a wealth of guidance and advice on making choices about A-Levels, careers and their future paths. We prepare our Senior pupils for their eventual transition to Sixth Form and support them as they develop the skills they will need to succeed in adult life.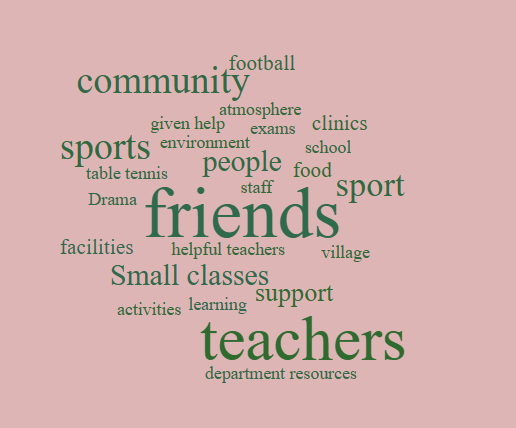 Responses from Form 11 2023 when asked what they liked most about St.Edmund's
In Form 10, pupils and their parents attend a 'Future Schools' evening where we provide all the information and advice required to help guide them in the next stage of their education. Pupils will also have a meeting with the Headmaster as well as the Deputy Head (Senior Academic) to discuss their aspirations and our aim is to help them gain entry to their preferred Senior School or Sixth Form College. St. Edmund's will supply references and GCSE predictions, as well as interview practice and scholarship support.
Destinations
There is a huge amount of choice for students when choosing a Sixth Form, whether they wish to remain in the independent sector, either as a day pupil or boarder, or whether they wish to join a state Sixth Form College or Senior School. Pupils from St. Edmund's move on to a range of independent and state Sixth Form Colleges and Schools including the following:
Alton School
ArtsEd
Bedales
Bohunt School
Bradfield College
Canford
Charterhouse
Churcher's College
Claremont School
Cranleigh
Farnborough College
Frensham Heights
Godalming College
Hurst
Hurtwood House
King Edward's Witley
Lancing College
Lord Wandsworth College
Merrist Wood College
Peter Symonds College
Portsmouth Grammar School
Salesian School
Seaford College
St. Edward's Oxford
Reeds
RGS Guildford
University for the Creative Arts
Wellington College
Winchester College